Who is Keith Meyers?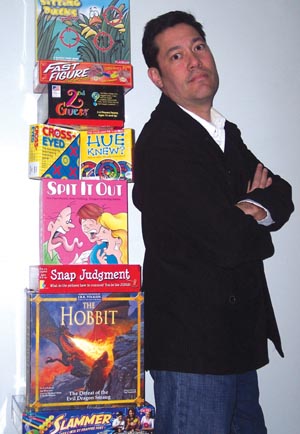 I've been playing games for as long as I can remember.
One of my earliest gaming memories is of all my aunts and uncles gathered around a table yelling at each other – a normally reserved bunch – during a night of playing "Pit". We had most of our large family, holiday gatherings at our house and it turned out that the best way to babysit all the kids was to sit them down and get them playing games. As a result, every birthday and Christmas I would get new games that could be played with all my numerous cousins.
I guess game inventing was in my blood. Whenever I got a game that I did not think played well enough, I adjusted the rules and added whatever was necessary to make that game a better game. Sometimes I would create an entirely different game or two from the parts I had available. I never imagined that there were people out there inventing these games and making money. I assumed games came from some great creative depository in they sky.
As with many beginning inventors, I imagine, I was disgruntled with my current employment, and I had this 'cool' idea for a game but had no idea how to start. Not knowing how lucky I was about to be, I opened my phone book and looked up 'game companies'. Lo and behold there was a small game company, The Game Works, listed there. I gave the number a call and the President/Owner of the Company answered the phone (remember this was a SMALL company). I pitched my idea on the phone (again, not knowing any better), and was politely told that they did not do strategic games. But we ended up chatting for a while and it turned out they needed someone to do some writing for them. It started out as a contract job, which later turned to a part-time job. Within 6 months, I was a full-time employee of The Game Works. Nirvana!
After several years, I had touched on all the in-and-outs of running a small game business which included game design, but also covered warehousing and shipping, accounting, overseas production, sales, etc., etc., I moved next door (again, luck... or destiny?) to a small chain of retail stores called The Game Keeper. They were just opening their 12th store when I joined them. During the next decade-plus, they grew into the biggest game-selling powerhouse in the nation, with up to 100 stores pushing out games by the baskets-full each Christmas. I was in charge of store promotions, so anyone who wanted to promote their game had to go through me... I met a lot of key people at game companies. We had a big hand in making a lot of games successful, and it opened my eyes to the fickle game buyer where the result of a successful game did not necessarily have anything to do with how well the game played.
Well, The Game Keeper was later purchased by Wizards of the Coast at the time they released the Pokemon trading card game in the US. That was a crazy, crazy time filled with armed guards and truckloads and truckloads of trading cards and lines and lines of salivating kids. As a result, Hasbro bought Wizards of the Coast. I had a hunch that The Game Keeper retail stores would become a thing of the past, and I was right. With some foresight, I crafted a small handful of game prototypes and used my many contacts to get them in front of game companies. I got three offers within months, which launched me on my full-time inventing path, and I haven't looked back since. Five years ago, realizing how fortunate I was to luck into what I was doing, I started teaching adult ed classes in game inventing to help those who likely would spend many years of trial and error to find out the things I already knew, or simply not even try. Those teachings and my decades of hands-on experience are culminating in my first book, "Getting Paid to Play: The Business of Game Design", which is targeted for a Fall '08 release.
Some of my published games are listed below.
Shake 'n Take
by Out of the Box Publishing
(2-10 players, ages 8+, 20 mins play time)

Pix Mix!
by MindWare
(2-4 players, ages 8+, 20 mins play time)

Bugs
by Valley Games
(3-6 players, ages 10+, 30 mins play time)

Haflinger & Co.
by Adlung-Spiele
(2-5 players, ages 8+, 30 mins play time)

Tiki Topple
by GameWright
(2-4 players, ages 10+, 20 mins play time)

This tactical game of totem domination has you shifting tiki heads up and down while trying to score your secret combination to prove you are the Top Polynesian Idol! Winner of Mensa's Mind Games award for 2008.

Sitting Ducks Gallery (aka Sitting Ducks, Carnardage)
by Playroom Entertainment, Amigo Spiele, Gigamic
(3-6 players, ages 10+, 20 mins play time)

Get your ducks down the row before feathers start flying! No duck is safe in Sitting Ducks Gallery, 'cause cards in hand can target, shoot or move the line in a variety of ways. Can you be the last Sitting Duck?

Whack It! (aka Slammer, Storeslem, Kletschjjj, Frappadingue)
by Tactic, Pressman, Alary Games, Basic Concepts, Paul Lamond Games
(2-4 players, ages 16+, 15 mins play time)

Fast becoming a best-seller with nearly 200,000 units sold worldwide! This is a personal favorite of my kids and my play test groups. Features a random sound generator and sticks with suction cups to smack cards with... what kids don't love that?

Hue Knew?
by MindWare
(2-6 players, ages 6+, 15 mins play time)

This fast-moving, fun-filled game tests your skills at spotting the color name that's written in the correct hue. A split-second hesitation can shut you out as you race against all opponents to grab the correctly colored pawn. Color identification is more fun than you can imagine... Hue Knew?

Cross-Eyed
by MindWare
(2-6 players, ages 10+, 20 mins play time)

Quickly match the cards in your hand with the patterns of Crosses and Eyes on the grid cards. There are multiple matches, so do you save the higher scoring gold or red cards waiting for the right match, or speed ahead collecting the most matches? You'll be Cross-Eyed from playing so much!

Over and Out
by Jax Ltd.
(2-8 players, ages 7+, 20 mins play time)

A simple, quick, and addictive math-based card game designed for families and for people looking for a small game on the go.

The Hobbit: The Defeat of the Evil Dragon, Smaug (aka Bilbo, Lo Hobbiten, etc)
by Kosmos, Fantasy Flight, 999 Games, Alga, Tactic, Esdevium, Tilsit, etc.
(2-6 players, ages 10+, 45 mins play time)

I loved the J.R.R. Tolkien stories growing up. And I love the Lord of the Ring movie trilogy just as much! Especially since it fed the desire for all things Tolkien and helped get this game distributed in 13 countries and 9 languages with over 300,000 games sold. Co-invented with Michael Stern.

Show Off!
by International Playthings
(2-6 players, ages 8+, 20 mins play time)

Show off your knowledge by naming things in a category each starting with a sequential letter of the alphabet. Shrewd use of categories, wild chips and bluffing will make you the ultimate Show Off!

Snap Judgment
by International Playthings
(2-6 players, ages 8+, 20 mins play time)

This snappy picture game of common items tests your judgment in finding things in common with each. Sales are promising so far... keeping my fingers crossed for the holidays!

Fast Figure (aka Schnelldenker)
by Playroom Entertainment, Amigo Spiele
(3-6 players, ages 12+, 30 mins play time)


This has just earned a prestigious spot in GAMES magazine's Top 100 in 2004, as well as garnered the National Parenting Seal of Approval and Creative Child Magazines' Preferred Choice Award! This fast-paced game of guesstimates has players racing to slap their card down in an ever-growing number line.

Thinklers
by Play All Day Games
(any size group, ages 12+, 15 mins or longer play time)

These clever card packs are packaged in nifty flip-top glass cases which makes them hip and portable for the college crowd, cafe clatches, and impromptu gatherings. A great way to get conversations started, with three variety from which to choose; Solve-Its, Noodle-Its, Pick-Its. Co-invented with Michael Stern.

2nd Guess
by Great American Puzzle Factory
(3-12 players, ages 12+, 45-60 mins to play)

This trivia-style game based on 2nds (what's the second most successful fast food chain, after McDonald's?), won Top 10 honors with the Chicago Tribune and San Francisco Examiner upon release, and surpassed sales of Cranium... in Des Moines, IA... it really did, but that's another story ;-)

Amnesia/Befuddle
by The Game Works
(5-10 players, ages 12+, 30 mins to play)

This party game of forgotten identities involves flashback clues that quickly get passed around. Can you determine which clues are yours in this frantic race to come up with your ID? Laughter invariably ensues when someone shouts out their identity... mistakenly! Featured as one of the best party games in US News and World Report back when it was released.

Spit It Out
by The Game Works
(4-10 players, ages 10+, 20-30 mins to play)

This game of tongue twisters challenges you and your opposition to spit out specific tongue twisters as fast as possible. The player who is best at these verbal gymnastics wins the game. Worked well as both a family game and a drinking game.